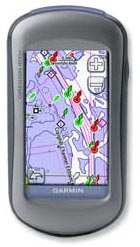 We chose the Garmin Oregon 400C handheld GPS/Chartplotter. Its touchscreen technology allows it to have a bigger screen in a smaller, lighter unit, and the touch controls are intuitive and easy to use.
I recently decided that I needed a handheld GPS unit. None of our current boats is big enough to warrant having its own helm-mounted chartplotter. My husband has a little 12-year-old Garmin handheld, but it's only a GPS, not a chartplotter. Plus it's Tom's. I never know where it is — he might have left it in the drybox on the Whaler, or inside the cabin on the Sun Cat, or in the kayaking dry bag, or it might be in his truck or at his office or in his workshop. Also, I never know what the status is of the batteries. And since I've never even seen the manual, I don't even really know how to use it. I'm a "read the manual" kind of person. Although I'm very comfortable learning and using various electronic devices, I need that manual. Without a manual, it's just a device with some mysterious buttons that sometimes show me what I want and sometimes show me something completely unexpected.
So I decided to get my own unit — a small, very portable, handheld GPS with a nice color chartplotter display. I can keep it where I know where it is, and I can keep my own batteries charged. I can take it with me whenever we're going out in one of the boats without having to ask Tom where it is. I can take it with me on OPBs (other people's boats). I can save my own waypoints and not have to worry that someone else will delete or change them.
Tom insisted that it must be a Garmin. He is sure they have the best, most intuitive interfaces for these units, and he's never had any problems with his cheap 12-year-old Garmin handheld. If I had a strong preference for some other make, I would have shrugged off Tom's advice, but I was perfectly willing to stick with Garmin.
Narrowing Down the Options
I narrowed my options down to three of Garmin's handheld GPS units: the GPSMap 76Cx, the Colorado 400C, or the Oregon 400C. All three are designed for use in the harsh marine environment, and all three are waterproof to IPX7 standards, which means that they should survive a drop in the drink, but they're not designed for continuous underwater use. The 76Cx was the "budget" model — if I liked its features and functions, I'd be happy to save money by buying the less expensive model. Before actually making a decision on one, I wanted to examine the screens, poke the buttons, and see them in action. We had already decided to pay a visit to the nearest Bass Pro Shops down in Fort Myers to buy a new fishfinder for the Boston Whaler, so we looked at the handheld GPSs while we were there.
The GPSMap 76Cx, the least expensive of the three, is the traditional non-touch-screen style, with an array of physical buttons. I'm perfectly comfortable pressing buttons (as long as I have access to the manual to learn what the buttons do), but the space required for the buttons means that less space is available for the display. This unit is longer, wider, and heavier than the Colorado and the Oregon, but has a smaller screen. Like the Oregon and Colorado, it's waterproof to IPX7 standards. The biggest selling point of this unit, to me, was that it floats. Handhelds are always subject to going overboard, and if your handheld doesn't float, it's probably gone for good. But the 76Cx doesn't come with any pre-loaded maps, so even if I saved money on the purchase, I'd have to spend money to get maps.
The Colorado 400C model is very similar in size and appearance to the Oregon 400C, just slightly larger and slightly heavier than the Oregon, and also $100 more expensive than the Oregon. The key difference between the two is that instead of the touchscreen or a bunch of buttons, it has a big round wheel at the top. Garmin calls it a "Rock 'n Roller input wheel." The wheel is supposed to be intuitive and easy to use, but I actually found it non-intuitive and somewhat difficult to use. The knob is placed so that I really had to hold the unit in one hand and manipulate the knob with the other hand. Maybe a person with bigger hands than mine could operate it one-handed, but I'm stuck with my own hands. I wanted a true one-handed device, so I ruled out that model.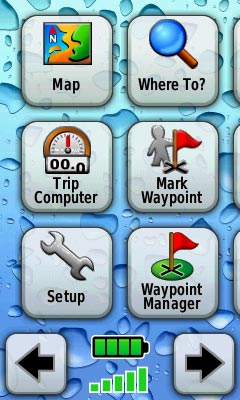 The main screen has more than 20 options, and displays 6 per screen. I customized the display to show me my most-often used options on the first screen. Additional options are accessed using the left and right arrow keys at the bottom.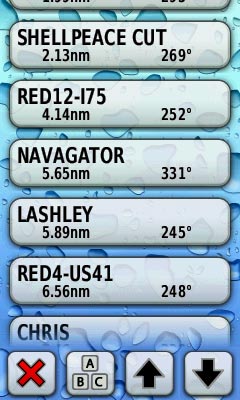 Touching the "Waypoint Manager" button on the main screen brings up my list of waypoints.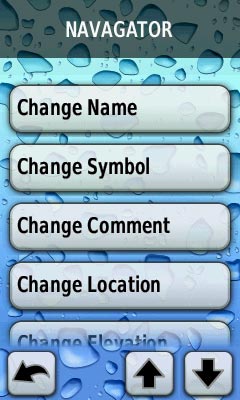 Touching one of the waypoints gives me a clearly labeled list of actions that I might want to perform on that waypoint.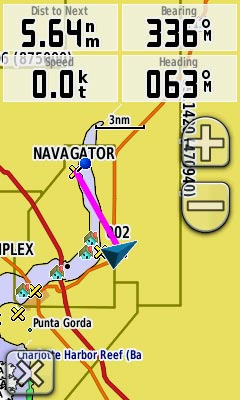 When displaying the map, those 4 data fields at the top can be set to show whatever data you want — you simply tap the data field itself, then choose from the list of available fields.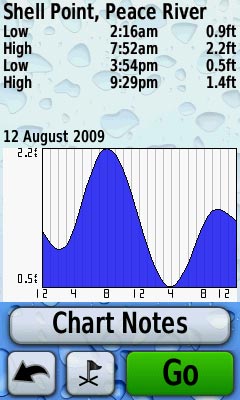 The Oregon comes with a complete set of tide tables, plus sunrise/sunset tables and current tables.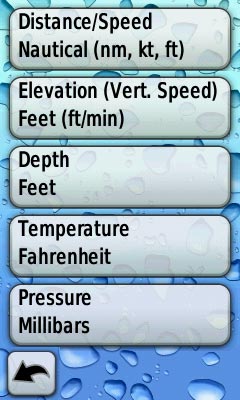 The Oregon 400C is very customizable. Not only can you completely customize the main screen options, you can also set defaults for a huge variety of display options. In this image, we see the options for choosing the units in which you want distance displayed, elevation, depth, temperature, and pressure. Of course, you can choose whether you want compass readings in magnetic or true, north up or track up, and all the usual settings you would expect.
That left the Garmin Oregon 400C, which has a touchscreen interface. The touchscreen means that virtually no space is used for physical buttons. The only button on the thing is the power button, which is located on the side. The entire front is given over to the display. This means that the unit can be physically smaller than other, non-touchscreen GPS handhelds, and still have a bigger screen. It's the smallest and lightest-weight of the bunch, but still has a good-sized display screen. I liked it already, even before I turned it on. This touch-screen GPS is a sweet little handheld.
Touchscreen Technology Rocks
The touchscreen technology has a strong benefit besides saving the space required for real buttons. The display shows you exactly what you need to see to accomplish any function, and the buttons and options for each function are clearly labeled. No more of those multi-function buttons which, depending on the function you're accessing, might change an option, enter a choice, scroll up or down or back or forward, open a new screen with more options, cancel an action, or do any of several other unlabeled functions.
If I touch the button "Waypoint Manager" on the main screen, I get a list of waypoints. If I then touch a waypoint, I get a clearly labeled list of actions that I might want to perform on that waypoint: Change Name, Change Comment, Change Location, Delete Waypoint, View on Map, etc. If I touch the "Mark Waypoint" button on the main screen, the screen shows me the waypoint's automatic name, and two clearly labeled buttons: "Save" or "Save and Edit," which allows me to give the waypoint a name of my choosing, add a comment, or make other changes to it before saving it. There's also a red X to allow me to cancel the action and return to the main screen. Yes, I like touchscreen technology. You don't have to memorize which button does what, and you only ever see buttons that are relevant to the particular action you're performing. The buttons you need are instantly available at the moment you need them, and are clearly labeled as to their function.
The display is excellent. Details are clean and clear, and the salesman showed us how you can zoom in and out multiple levels easily by simply holding down the zoom in or zoom out button.
The unit comes pre-loaded with maps and charts for the U.S. and the Bahamas. No separate purchase is needed — this baby is ready to use out of the box, for use on the water or on land. Additional maps can be purchased, of course, and the unit has a slot for a MicroSD card, so I have flexibility for future map purchases, but I don't see a need for buying any additional maps in the foreseeable future.
The touch technology isn't quite as easy to use as that on my iPhone, but then, the iPhone isn't made to stand up in a marine environment. I imagine that to get the IPX7 waterproof rating, the screen had to be beefed up a little more than the iPhone's screen, which results in the need for a stronger "touch" for the touchscreen functionality. In just a few minutes of playing with it, I learned how to touch the screen properly to get it to register the touch.
The unit has a USB interface for hooking it to a computer. You can easily upload and download maps, waypoints, routes, images, and other data by simply plugging in a USB cable.
After poking and prodding it for a few minutes, I decided the Oregon 400C was the handheld GPS I wanted. We had the salesman set it aside, along with the fishfinder, while we wandered off to explore the store and see what else we could spend our money on.
After getting home with my new GPS, I sat down to read the manual and go through the various settings. One thing I discovered that I really liked is that I can customize the default settings to a very great extent. The main screen, for example, has more than 20 buttons, only 6 of which show on the screen at a time. I rearranged all the buttons so that the six functions that I use most often are on the first screen, then the next most-used six are on the next screen, and so forth. I turned off a few of the buttons altogether — I don't ever use geocaching or play "Whereigo," so I removed those from my display altogether. It surprised me how much customization is possible with this little unit. I also discovered that Tom was right about Garmin's user-friendly interfaces: For most of the features on the 400C, I really didn't need the manual.
By default, there are multiple profiles, for marine, land, auto, etc., and you can also create additional profiles — so my husband and I can each have our own collection of settings with all the defaults set to exactly what each of us prefers. If he wants the map to always show speed and heading at the top, and I prefer distance and bearing, we can set those choices in our own profiles so that we're not changing each other's settings.
I've taken the 400C with me on my Adventure Island, in the Whaler, and in our Sun Cat. And of course around town and on our property. The screen is easily readable in bright sunlight, and the accuracy is every bit as good as any of the large helm-mounted chartplotters I've seen.
It's powered by two AA batteries, and you can use rechargeables in it. I've deliberately left the unit turned on all day and recording our track when out in our various boats, to see what kind of battery life I would get. At the end of the day, the battery indicator will usually show that the batteries are down to about half of their charge. I can continue to use the Oregon for another day, and I don't get the "low battery" warning until the end of the second full day of use. Not bad! Even without carrying a spare set of rechargeables, I can feel confident that the unit will last an entire day on the water. I already have several pairs of rechargeable AA batteries, so it's easy to bring extras "just in case." On a long cruise, I assume I would be on a big enough boat that I could plug in the charger base overnight, and I would always keep two or three sets fully charged so as to have them readily available if needed.
Navigating with the map, entering waypoints and creating routes, and most all of the other functions are child's play on the Oregon. Of course you get all the basics for navigation: Bearing and distance to next waypoint, to destination, ETA, speed, etc. It can give you Distance and Speed (in your choice of nautical miles/knots, mph, or feet or meters), Velocity Made Good, Depth (your choice of feet, fathoms, or meters), Trip Odometer, ETA, time to destination, MOB button, and all the other standard data available on any decent GPS/chartplotter. Oh, and of course your standard lat/long coordinates.
Jam Packed With Features and Information
There's a list of marinas, a list of anchorages, a list of navaids, a list of obstructions — the amount of information jammed into this tiny little device is impressive. It has a full set of tide and current tables — with the press of a couple of buttons, I can find out the high and low tides for the nearest tide station, or any other tide station. It has tables for sunrise and sunset, and moonrise and moonset, and the phase of the moon. An anchor alarm, of course, plus an off-course alarm, deep-water alarm, and shallow-water alarm. There's an alarm clock and a calculator, a calendar, a stop-watch. There's a "Hunt and Fish" button that supposedly tells me the best times for hunting and fishing, although I have to wonder what that's based on.
Just for fun, I used its "Area Calculation" feature to walk around our pond and determine that the pond is just about a third of an acre in size. I can also take screenshots of the screen and copy them to my computer.
No matter how intuitive a thing is, I always learn something from reading the manual. I learned from the manual that I can tap the tide chart to bring up an option to choose a different day. Suppose it's Wednesday, and I want to know the tide schedule for Saturday — I didn't know that was possible until I read the manual.
I particularly like it that you can customize the items (data fields) that are shown at the top of the map, and I didn't realize those were customizable until I read the manual. All you do is tap the data field. A list of data fields pops up, and you tap the data field that you want to appear in that location. You can set the Oregon 400C to show 2 data fields or 4, or to show 2 when it's in plain old map mode and 4 when navigating to a waypoint. I chose 4, and it's easy enough to change them that I sometimes change them on the fly while we're out in one of the boats.
It's Not Perfect, Of Course
There's a lot to like about the Garmin 400C. There are a few things I dislike, of course.
First, the manual doesn't contain a list or explanation of the terminology used. Not all of it is crystal clear. I had to go hunting around online until I found a wiki that told me what all of the terminology refers to. Some of it I didn't care about anyway. I don't do much hiking, especially in mountains, so I had no interest in learning that "Glide Ratio" tells me the ratio of horizontal distance traveled to vertical distance traveled. I use this thing primarily on boats, which tend not to climb or descend much. I use it secondarily on land in flatter-than-flat south Florida. Glide ratio simply has no relevance to me.
Second, Garmin uses some different terminology than what I'm used to. I needed to read up on bearing, course and heading. With the other chartplotters I've used, bearing always refers to the bearing to your next waypoint. Heading is the direction your boat is pointing, and course is your course made good or course over ground — i.e., the direction you're actually traveling.
On the Oregon, bearing is still bearing. But heading refers to your course made good, and course refers to the bearing to your next waypoint. Also, "heading" seems to operate in two different ways: If I'm moving, the Oregon shows me my course made good as my heading, but if I'm not moving, heading shows me the direction the unit is pointing (the top of the unit, when held horizontally), sort of like a compass. I fail to see a difference between "bearing" and "course" as the Oregon uses those terms, and I fail to understand why Garmin chose to re-define perfectly good words that every boater understands and instead uses them to mean something different. It was quite confusing until I figured out how Garmin was using those terms.
Third, while it's easy to "drop a pin" on the map to mark a spot or get more information about something, there's no easy way to remove the pin once you've dropped it. The ability to drop a pin is nice — you can drop a pin on any waypoint, or most anything else noted on the chart, and the item's name, distance, and bearing appear at the top of the screen. Then you can tap that name, and get additional information about the item, such as lat/long, comments, the date the waypoint was created, etc. But once you've dropped that pin, there's no way to get rid of it except by going back to the main map, which loses your zoom and pan settings.
Fourth, when you have the map showing, if you drag the map to pan the display to a different location, the datafields at the top of the map disappear. The only way to get them back is to tap the "back" arrow at the bottom of the screen, which re-centers the map to your current location. You can zoom in or out without losing the datafields, but panning makes them disappear.
These complaints are minor nitpicks, though. Overall, I'm quite pleased with my new Garmin Oregon 400C, and I'd buy the same one again if I had it to do over. The power and capabilities that you get in this small package, combined with the touchscreen user-friendly interface, and its suitability for the harsh marine environment, make it a worthwhile acquisition for anyone who needs a handheld chartplotter. And who doesn't need a handheld chartplotter?