Sailing / Paddling / Pedaling the Hobie Mirage Adventure Island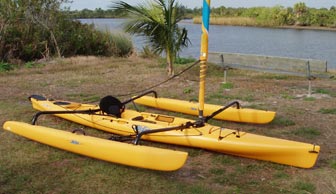 The Hobie Mirage Adventure Island — the kayak that sails, paddles, and pedals.
His and Hers Reviews — Her Review
Hobie calls it a 16' trimaran "sail/yak" — but I just call it fun. My husband and I had an opportunity to play with Hobie's revolutionary pedal-powered, sail-powered, paddle-powered Adventure Island kayak, and it gets a big thumbs-up from the wife.
When my husband heard my shout of "Yee-Haw!" from out in the river, he said to himself, "Oh, good, that means I have permission to buy one." I told him no, it doesn't. It means he has permission to buy two, and that if he buys only one, it better be the red one and have my name on it.
The Adventure Island is indeed a trimaran, with two amas that are easily attached or removed via the metal crossbeams. The amas can be folded in toward the boat — easily done while the kayaker is seated in the boat — to bring the boat up closely alongside a dock, ramp, or beach.
When the amas are out, the boat is exceedingly stable, and even when the amas are folded in it's much more stable than other kayaks. Even deliberate attempts to rock it, while standing up in the cockpit, fail to elicit much side-to-side movement. Anyone who dislikes the instability of most kayaks will find the Adventure Island a rock-solid delight.
Human Propulsion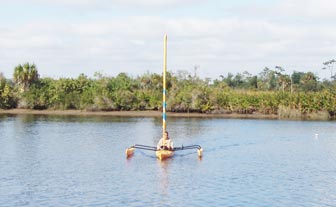 Pedaling the Hobie Mirage Adventure Island.
The Adventure Island can be paddled like a conventional kayak, or it can be propelled by pedaling Hobie's "MirageDrive," which uses bicycle pedals that operate much like a stair-stepper, which oscillate underwater flippers similar to a penguin's. The flippers are surprisingly efficient at moving the boat through the water, and turned out to be very quiet. Women generally don't have as much upper body strength as men, and the pedals allow us to use the larger muscles in the legs to power the boat. I always have trouble keeping up with my husband in a paddling kayak, even when I'm paddling the faster boat, but I had no trouble keeping up with him when he was paddling his fast kayak and I was pedaling the Adventure Island. The demo model we used had the standard fins, but when I get my own Adventure Island, I'll probably purchase it with the "turbo fins" — and it won't surprise me if I sometimes find myself pulling ahead of Tom when I'm using those.
The Adventure Island can also be paddled like a regular kayak, too. There's a handy bungee cord and knob on the side of the boat to clip the paddle to, so that it's handy without being in the way. I paddled a bit, but as usual I immediately started falling behind Tom, and my arms grew tired quickly.
Instead of a foot-controlled rudder like most kayaks have, the Adventure Island has a little lever (tiller?) built into the left gunwale. When under pedal power, or sailing, the steering lever is convenient to use, but serious paddlers who want to use a kayak primarily for conventional paddling probably wouldn't want the Hobie Adventure Island as their primary kayak if only because of the hand-controlled tiller. When paddling, the kayaker must remove the left hand from the paddle to adjust the rudder, which I found inconvenient during my brief period of paddling. Mostly, though, I left the paddle clipped to the side of the boat and enjoyed pedaling it.
Wind Propulsion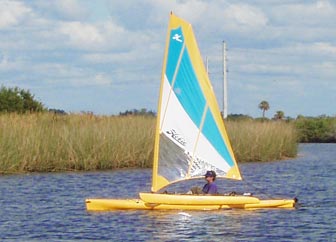 Sailing the Hobie Mirage Adventure Island. The sail furls and unfurls easily.
Sailing the Adventure Island is pure, unadulterated fun. Before I went out in it for the first time, I was a little concerned that I would have trouble reaching the sheet from my seated position, or that the sail would be difficult to furl or unfurl. My worries were groundless, though. Sailing the Adventure Island is so easy, even a caveman could do it. When you're ready to unfurl the sail, you simply pull one line back towards you until the sail is out — an operation that takes just a few seconds and requires no specialized knowledge or skill whatsoever. When you're ready to furl it, you pull a different line, requiring no more time or skill than unfurling it. The sail is self-tacking, so tacking only requires adjusting the rudder to your new tack. My husband tells me it's a good idea to tighten the sail a little before tacking, then ease it back out after the tack, to reduce the wear created by the impact of the sail coming over hard.
The boat sails nicely on a reach and downwind, but I didn't really test how well it sails on an upwind tack or how closely it can sail into the wind. I'm not that skillful at trimming the sails even on a "real" sailboat. I'm pretty sure Tom will address that in his review, so I won't worry about leaving out such information. I can say that in our river where we played with it, I sailed upwind, downwind, and across the wind, and didn't have the sail flapping about too much.
Pros and Cons
Cons:
The Adventure Island is relatively heavy — I would not be able to launch this boat on my own, if I were of a mind to go kayaking by myself, which I don't. I'm pretty sure Tom would be able to launch it by himself with some effort, but it's not as easy for one person to handle on land as a lighter-weight conventional kayak.
If you want to use the sail, and the pedals, and the amas, it's a little more time-consuming to prepare the boat before launching it than most conventional kayaks.
The cost. It's not cheap, but you get a lot for your money. The Adventure Island comes with the amas, crossbeams, pedal assembly, paddle, mast and sail, seat, and all rigging and covers. We plan to buy a pair of them, plus a trailer, so we'll need to find a few thousand bucks in the budget.
Nitpicking:
When the sail is furled, the sheet leads from the mast back across my shoulder, pressing uncomfortably into the side of my neck. Although I didn't try it, I believe this could easily be corrected by loosening the sheet and leading it down to the deck and then back.
As mentioned above, a serious paddling kayaker would probably dislike having to let go of the paddle with the left hand to adjust the rudder. My husband's comment, though, was, "I can't wait to get our own so I can throw away all my paddles."
Pros:
Fun fun fun!
Easy to sail, and easy to deploy the sail.
Easy to pedal. When pedaling with moderate effort, I easily kept up with Tom, an experienced kayaker who is a strong paddler, at a pace that I was comfortably able to maintain over a sustained period of time. While resting, I continued to pedal at a very slow, restful pace, and, according to the GPS, I was making about 2 knots even while feeling like I was at nearly complete rest. During a short sprint, I kept up with Tom when he was paddling his fast kayak as hard as he could — but that wasn't a pace that I would be able to maintain.
The Adventure Island is very stable, and has plenty of storage space: A convenient cupholder for my soda, several net pockets, a zipper pocket in the back of the seat, two built-in fishing rod holders, an enclosed forward hatch, and an open rear storage area.
Trimarans can make it impossible to go through a narrow pass, and sailboats often can't go under bridges. But in the Adventure Island, the whole mast can be lifted out and laid down across the crossbeams, and the amas can be folded in toward the boat, which enables the Adventure Island to go under bridges or go through narrow passes. The boat is stable enough that standing up in the cockpit to lift out the mast presents no concerns at all about capsizing.