Canvas covers, bimini tops and dodgers don't last very long in the tropical sun and salt environment, but there are some things you can do to prolong their life.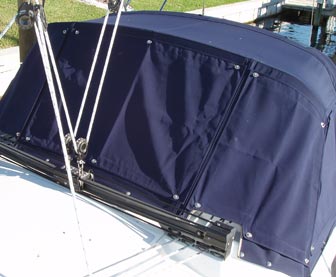 The Catalina 309 dodger and bimini package comes with snap-on canvas covers to protect the isinglass.
Marine Canvas Enemy #1
The biggest enemy of marine canvas, even quality UV resistant canvas cloth such as Sunbrella, is the sun. If you are using a good canvas cloth, make sure that your canvas is stitched with a quality UV resistant thread. I have seen perfectly good 2-year-old canvas falling off the frames because the thread holding everything together was shot. At that point, the canvas cloth still had some life left in it, but probably not enough to justify restitching the old canvas. It was time to get a new Bimini top and dodger, at a cost of several thousand dollars, all because cheap thread was used.
When a Bimini top or dodger is not in use, it is a good idea to remove the canvas from the boat and store it indoors. If that is not practical, fold it up and cover it with a canvas cover. If the canvas is left up in order to protect the boat from the sun when the boat is not being used, it will deteriorate over time, but there are still ways to protect it from degradation by the sun. There are spray-on canvas waterproofing products that provide some protection, similar to the way wax protects gelcoat or paint from the sun and the oxygen in the air.
Isinglass Care
Isinglass will break down in the sun faster than Sunbrella marine canvas cloth, and needs special protection. The new Catalina 309 Bimini top and dodger combination package comes with canvas covers that snap on over the dodger isinglass to protect it from the sun when not in use. (See photo above left.) This is also useful to block the sun when at anchor in the morning or evening hours when it comes under the edge of the Bimini top.
Isinglass Enemy #1
Isinglass is easily scratched by salt crystals, so do not wipe salt off of it. Rinse the isinglass off thoroughly, then wipe with a chamois cloth to remove water spots. Isinglass should not be folded if it can be avoided. It is best to roll it up for storage, preferably with a towel or paper rolled in to keep it from scratching itself.
Protecting Snaps, Zippers, and Other Attachments
The snaps, zippers, and other attachments on boat canvas tend to freeze up if they are left unused for any length of time in the salt air. Bimini top zippers are made to deflect water, and the button snaps are a little ring inside a cup, also good at deflecting water. That's good when you are using them at sea, but remember that even if you hit the canvas with a hose for long enough to rinse the salt off the canvas itself, you probably did not hit each and every fitting sufficiently to get water inside and rinse away any salt that got inside. Think about how the fittings are put together when you hose them, and direct a stream of water at them in a direction that will rinse out the salt.
When the snaps on a Bimini top or dodger are not going to be used for a while, it is a good idea to lubricate them with a corrosion inhibiting oil such as Boeshield T-9. The little ring inside the cup on the snaps will eventually corrode in place and get stuck inside, making the snap impossible to remove without damage. If you coat it with a light coat of oil a couple of times a year, it will always unsnap with ease. If one corrodes and gets stuck, try soaking it with oil and tapping on it, then come back in an hour to try again.
The zippers on marine canvas can also get stuck, even if they are made completely of plastic. The ones with an aluminum zipper head are susceptible to getting stuffed with white oxidation material as the aluminum inside holds salt and corrodes. I use T-9 on those as well. On the all-plastic ones, where even the zipper head is plastic, I use plastic zipper lube or silicon spray lubricant or Armor All, which is slippery and protects them at the same time.
Proper Care of Your Boat Canvas Will Prolong Its Useful Life
Do what you can about the sun and the salt, and your marine canvas should give you at least 5 years of service in the tropical seas. If it lasts longer, you are doing a great job — or not using your boat enough.