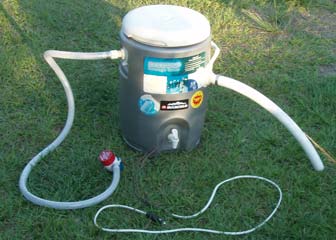 This is what I came up with to use as a livewell on my 15' Boston Whaler.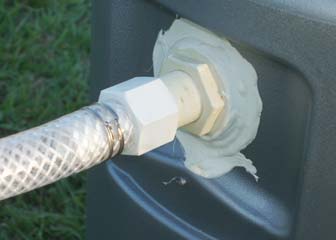 I bought a round drink cooler at Wal Mart, and removed the handle on one side. In its place, I drilled a hole with a hole saw and installed an ordinary plastic bulkhead fitting.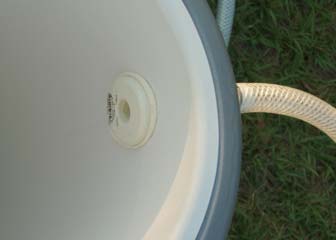 On the other side and somewhat lower, I drilled a much larger hole and put a plastic bulkhead fitting which has a flat flange, designed to sit low to the deck in the transom on boats with self-bailing cockpits.
I will mount a small plastic coarse screen on that flange, to prevent smaller baitfish and shrimp from escaping overboard.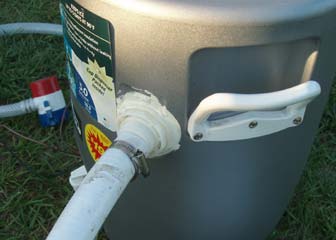 On the outside, I put a short length of hose for the overboard drain.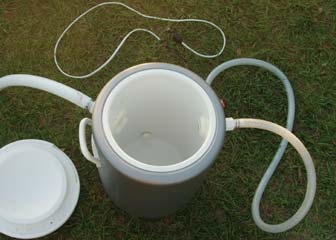 Here's an overhead view of the whole assembly.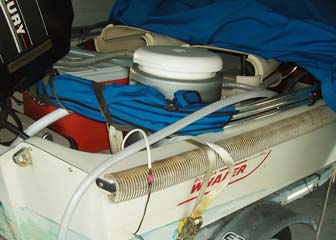 And here is my custom-built livewell tucked into a tiny space in the stern of my boat.
A live bait well on a small boat is never easy, especially if the boat can't be outfitted with a built-in livewell of any size.
I used to use a 5 gallon bucket with a perforated plastic bait lid, but it had to be lifted in and out of the water at each fishing stop, and recirculation was not good with holes only in the lid. I had to drain about half the water out before running at speed in any waves, or water sloshed out into the boat.
I Needed A Better Baitwell
I decided I needed a removable livewell that could either intake water from over the side or recirculate its own water with a small bilge pump. Here is what I came up with.
When it is sitting in the back of my 15 Whaler, I can hang the hose with the bilge pump overboard and plug it in to a switched cigarette lighter type 12 volt outlet on the console of the boat. The hose is long enough to hang down a couple of feet, where water is cooler and more oxygen-rich, which will mean lively bait on a hot day.
I run the drain hose into the self-bailing motor well. When running between fishing spots, the lid prevents any water from splashing into the boat, and I just put the hose and bilge pump on deck. I can also put the pump inside the cooler livewell and make it recirculate as a livewell aerator pump.
I also have a 12 volt outlet connected to a couple of alligator clips, so I can clip on to any 12 volt battery and plug in the live bait well pump. I can bring it along on other boats that don't have a live well, as long as there is a battery, or I can bring a battery, too.
Result? A Removable, Small-Space Livewell for a Little Time and Money
This livewell works great, and was cheap and easy to build. My expenditures included some through hull marine bulkhead fittings meant for above waterline use, some hoses, a small bilge pump, and a cooler. I already had some wire and I bought a 12 volt cigarette lighter type plug fitting to put on the end. I used crimp connectors sealed with plastic liquid electrical tape to connect the bilge pump wires.
Instead of stainless steel hose clamps, I used my new ClampTite clampmaking tool to make my own stainless steel wire clamps on the hoses.
The whole thing cost about $60-70 in parts.