A Small Boat's Drybox and Its Contents
The Quick and Easy Drybox Solution for a Small Boat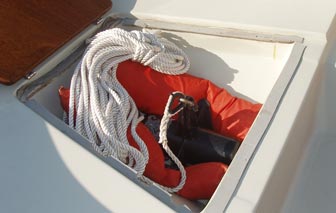 The bowlocker on my Boston Whaler stays pretty full. In the picture you can see the lifejacket and anchor and rode. I also keep a gallon jug of water and my marine toolkit in the bowlocker. This leaves no room for anything else.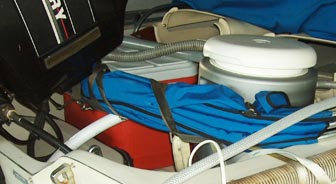 Here's a pic of my drybox (left) tucked in the stern of the Boston Whaler, right next to my livewell cooler.
On my little Boston Whaler, the only enclosed storage on the boat is the bow locker. It isn't very large, and any water on the forward deck area drains right into it. It is not self-bailing, so I have to keep the plug in at all times, and I use it to store the anchor and rode, a life jacket, a gallon of water, and my boating tool kit. With all those items inside, the lid barely closes.
So, in essence, I have no dry storage at all on the boat, and only a little space remaining in the bow locker for stowing items that can get wet. There is no space on the boat where I could build in an enclosed storage compartment, so I decided removable storage was the way to go.
I use a Coleman cooler. It is an excellent solution to the problem of dry storage on a small boat. It fits nicely behind the helm bench, and can be moved anywhere or removed from the boat for cleaning. It is splash-proof, so riding in waves and taking spray doesn't bother what's inside. Being a cooler, of course, it is insulated, so it doesn't get too hot in the sun, making it a reasonably good place for temperature sensitive electronics or food.
My Coleman cooler drybox has plenty of space for a couple of towels, an extra shirt or two, and all the various things which would otherwise have no good home on board the boat. When friends come along, the cooler/dry box collects wallets, cell phones, cameras, or any other items that should not get wet.
Permanent Drybox Gear
In addition to the gear that everyone brings aboard, some things always remain in the dry storage box so that they will be with the boat at all times. I always keep our water skiing mirror in there, and a few insulated can holders for drinks, and a chamois cloth in there for wiping down the boat. I also keep a few area plastic-laminated navigation charts in there, mostly in case someone else needs to use the boat when I am not around. I have all those charts in my head, where I have logged every place I have run aground. (I update the mental charts regularly by hitting new stuff.)
I keep a couple of dollars and a few quarters in the dry box, because you never know when a few bucks for a stranger or a quarter for a phone might solve a big problem. I keep a spare set of sunglasses or two in the dry box. I have had to drive a boat home into the sun after dropping my sunglasses overboard, and it wasn't much fun, so backup sunglasses are comforting to have along. I also keep a pair of diving gloves and wetsuit booties with walking soles in the box, because you never know when you'll have to walk in or pick up something nasty or dangerous. I also keep in my drybox a few paper towels and plastic cups, because you never know when cocktail hour might unexpectedly arrive.
I also use the dry storage box as an extension of my boat tool box, to hold things that are too bulky to fit in the small waterproof Pelican case that I use as a tool box. I keep a roll of duct tape in the dry box, and a small can of WD 40. I also keep some bungees and light braided line in there, in case I need to tie something down.
For boats on which built-in dry storage is insufficient or not available, a cooler is a cheap and easy alternative that does a darn good job of keeping your stuff safe and dry. It can also serve as an extra seat on the boat, and can be floated in to shore when at a beach, both as a way to transport stuff off the boat, and as an extra seat on the beach. When it gets old and cracked, a new one is readily available almost anywhere for very little money.