Dry Bags, Dry Boxes, and Dry Pouches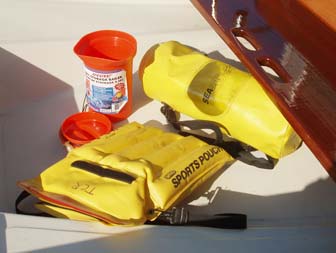 A dry bag, a dry pouch, and a combination bailer/dry storage container make good dry storage solutions on a small boat.
In addition to the cooler I use as a dry box on my Boston Whaler, I have found a few other dry storage solutions that are useful on small boats.
Pictured at left are a SeaSense dry storage cylinder/small boat bailer, a Sea Safe waterproof plastic bag with clear window, and a SIMA Sports Pouch.
Dry Storage Bailer
I use the Sea Sense dry storage bailer to carry my cellphone, wallet, camera, my handheld GPS, or anything else that can't get wet when boating on small boats. When loaded with electronics, it will not float, but the flat lip makes it a good bailer, and the rubber O-ring seal is airtight. It is sturdy and will provide reasonably good impact protection.
This little container makes great kayak dry storage for your small items — it hardly takes up any room, so it can be tucked in anywhere, and if it should go overboard, you can just reach over and grab it back without tipping the kayak.
Dry Bag
The Sea Safe dry bag is a large rubber/plastic bag with a fairly large screw-on lid with waterproof rubber o-ring seal. At the other end is a plastic air valve such as you find on inflatable air mattresses. It really isn't needed, in my opinion, but can be used to inflate the bag fully, providing a bit more shock resistance if fragile items are inside.
We usually use the SeaSafe for towels and shirts on kayak trips, and also throw in sunscreen and other sundry items.
SIMA Sports Dry Pouch
The SIMA Sports Pouch is really just a glorified ZipLoc bag made out of a folded-over child-sized inflatable raft. It's great for bringing along fragile and expensive items such as video cameras. Put the camera inside, zip up the seam and fold over the top onto the velcro strip, then use the air valve to inflate the plastic ribs all around the bag. This provides great padding and floatation. I am confident that if I lost my video camera overboard in this bag, I would retrieve it unharmed. I am not so confident that I have actually tested that theory, but I have used the Sima Sports Pouch extensively, and found it to be a good, durable product which provides excellent waterproof, padded, floating protection for electronics.