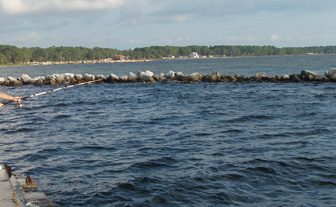 The marina's breakwater was a popular fishing spot.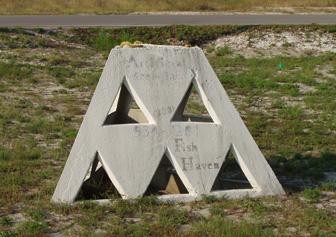 These "fish havens" are sprinkled around on the bottom of the bay around Port St. Joe, making it a fine fishing spot.
Part Eight: Oct. 22, 2006
A Day In St. Joe Marina
With not much going on, Jon and Ginger cleaned the boat and did routine maintenance. The boat club I had been photographing a couple of days before were arriving one by one, returning from their cruise to Apalachicola. I went around and met them as they came in, telling them I was the guy who took their pictures. They seemed like a really nice, fun group of people.
A 1988 Catalina 34 tall rig pulled into the slip next to ours, and the owner seemed surprised that I was able to guess the year his boat was built. It was not all that hard, since I work at a sailboat dealership and the owner of our dealership has the same boat. We chatted for quite a while. He lives up in Georgia, about a 5 hour drive from his boat, but said it was worth the drive to get to go sailing in such a great location.
I don't know if I could do it that way. When she's in the water, my Corsair F-27 trimaran is about 20 minutes from my house. I put off routine maintenance until the boat is back on the trailer in my yard. The Catalina 34 requires more maintenance, and the owner did mention that he tends to come down, go sailing, and put the boat away. It must be hard to drive 5 hours just to work on your boat.
We Try Our Hands at Fishing
In the afternoon, Sonja and I took some rods over to the outside of the marina's breakwater and tried to catch something. Anything, we didn't care. Kingfish were running, and we saw some explosive action right out in front of us, and a huge commotion further offshore, where kingfish were really working over schools of baitfish. There was a large flock of birds enjoying the side effects.
I got a few nibbles on the fake shrimp I was casting, but only caught the elusive bottom fish. OK, I caught a rock. Fortunately, I was able to free my lure (one of my favorites) without any trouble just by walking down the seawall and pulling from the opposite direction.
No kingfish struck our larger lure, which all the locals said was just the thing to catch them. Probably just as well, as we had no net, no gaff, and no intention of keeping anything less than a large sea trout. I can't be bothered with cleaning a fish that isn't both large and delicious!
No Swiffers at the Grocery Store — But They Carry Hacksaws
Meanwhile, Jon and Ginger had gone shopping at the local Piggly Wiggly, and found that they do not carry Swiffer type sweepers, but do carry hacksaws. Figure that one out, if you can.
Hey, since Hurricane Charlie, our Punta Gorda Publix supermarket carries generators during hurricane season. Maybe the locals in Apalachicola have some (seasonal?) need for hacksaws.
And No Alcohol on Sundays
We walked into town in the evening to have dinner at Pepper's, a Mexican restaurant in downtown Port St. Joe. Ginger found it hilarious that they could not serve alcohol on a Sunday, and said so. Ginger's laugh is both loud and infectious, and the look on the waiter's face was priceless. He just didn't know how to react to her amusement. The food was great, and we waddled back to the boat, all completely stuffed.