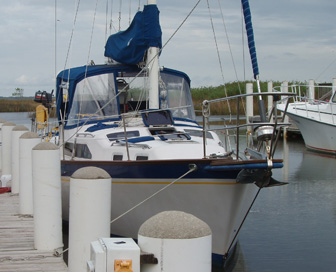 Charlie K docked at the Scipio Marina in Apalachicola.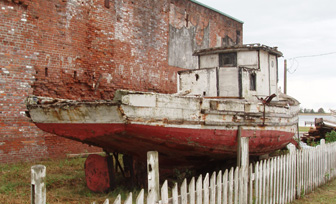 Apalachicola is a waterfront junkyard dominated by sinking fishing boats and broken docks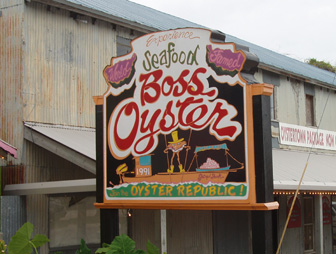 Boss Oyster was Apalachicola's version of a glitzy waterfront restaurant.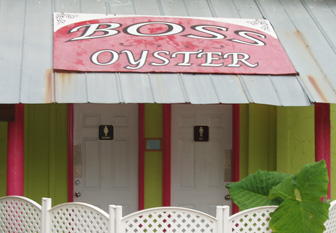 It's not often that the front doors of a restaurant are the rest rooms, but OK.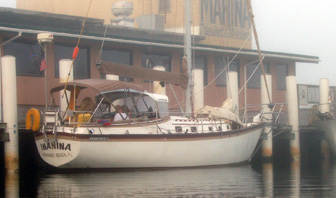 Friends from home arrived at Scipio Marina on Inanina, an Endeavor 37.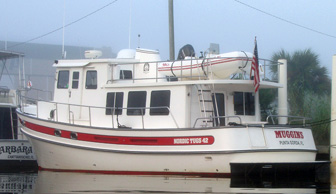 We encountered a beautiful Nordic Tug 42 named Muggins — from Burnt Store Marina, down in our neck of the woods.
Part Four: Oct. 18, 2006
Heading for Apalachicola
We moved from the anchorage at Dog Island to Scipio Creek Marina in Apalachicola, taking the inland ICW route. It rained off and on the whole time, and we were glad once again that Charlie K is equipped with a full cockpit enclosure.
Cruising the Friendly Waters
We encountered two trawlers traveling together in the opposite direction, and Jon, who could strike up a conversation with a fence post, started talking to them on the radio. They were on the way to Clearwater, having come down from their home in Minnesota.
"MINNESOTA?" Jon asked.
"Yah, you bet!" said the guy, in his best Minnesota accent, to roars of laughter in our cockpit.
We had two powerboats come up the channel toward us at high speed, only to slow down in plenty of time to avoid waking us. I put the VHF on low power and just said, "Thanks, Captain" on channel 16. They responded with "You're welcome, have a safe trip." Good people, you can tell from just a little exchange.
Apalachicola: A Beautiful Waterfront Junkyard
Apalachicola's waterfront is dominated by sinking fishing boats and broken docks. What an opportunity! The word on the street was, if you offer any kind of money for property here, you'll quickly own it.
It was like a trip back in time, and I couldn't believe valuable Florida waterfront property was sitting there looking more or less like a junkyard.
Sonja and I walked into town. Neat place. Funky, full of little businesses of various interesting types. We went into the Tin Shed, which had all kinds of nautical stuff. I could have spent hours in there looking at relics and models and various pieces of nautical history.
Boss Oyster was what passed for a glitzy waterfront establishment, right next door to an oyster packing house. It's not often that the front doors of a restaurant are the rest rooms (see photo at left), but OK.
Back at the Scipio Creek Marina, Charlie K rested alongside the center dock. Some friends from Jon and Ginger's cruising club back home arrived aboard Inanina, an Endeavour 37. We also encountered a good-looking Nordic Tug 42 named Muggins, which hails from Burnt Store Marina down in our home town of Punta Gorda, FL.
Paddling My Kayak, Feasting on Oysters
In the afternoon, I assembled my Klepper foldable kayak and went for a short paddle in the area of the marina. After my paddle, I took the opportunity to get a real, shoreside shower and then we all went to the marina restaurant for dinner.
I loved being in the oyster capital of Florida, and ate lots of the gross little things.
The first human to eat an oyster must have been desperately hungry. They look like the stuff you throw away after a successful hunting or fishing trip, and the health department seems to think they are dangerous, but they sure are tasty!