Apalachicola is prettier from out in the river than it is up close.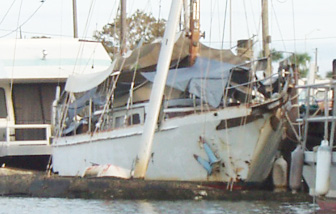 A sunken sailboat at the city marina.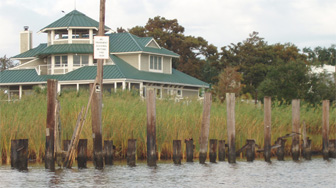 The spate of hurricanes turned a lot of docks into just pilings. Many have still not been repaired or replaced.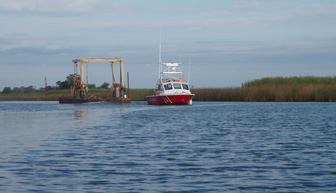 A barge with an old dilapidated travel lift was being towed down the river.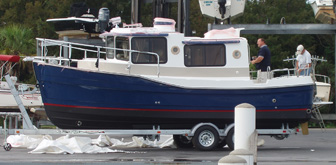 A brand-new trailerable tugboat type cruiser had just arrived at the marina.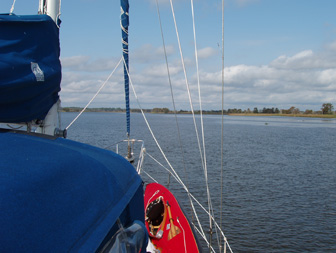 We head upriver to take the ICW.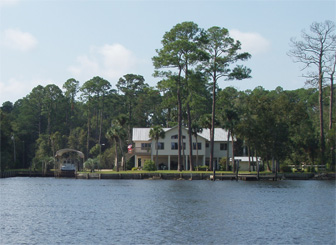 The scenery was beautiful, complete with waterfront homes with boathouses.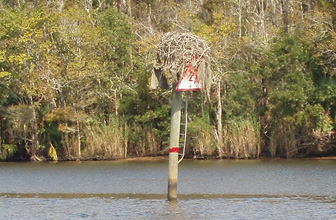 On the Jackson River, we saw bald eagles and a blue heron. A channel marker was nearly obscured by an osprey nest.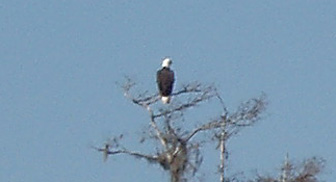 A bald eagle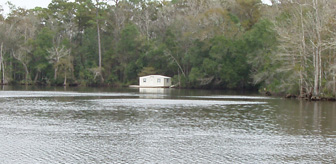 We saw a houseboat that looked like a shed on a barge.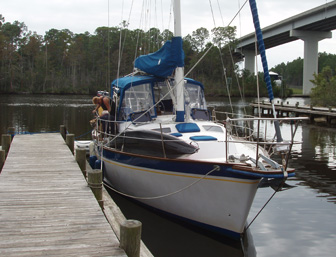 Charlie K, docked at White City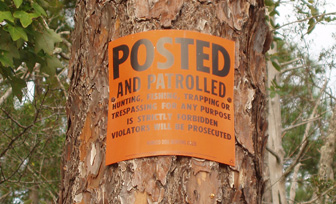 The land here was apparently owned by the Wilmico Dog Hunting Club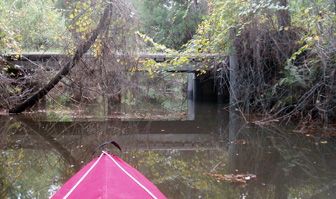 I couldn't figure out what this low bridge was for. It didn't look big enough for vehicular traffic. Possibly it's used by hunters riding ATVs.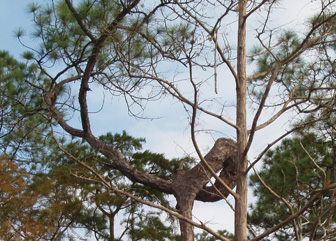 I came across a very strange pine tree, which looked like it had tied itself in a knot.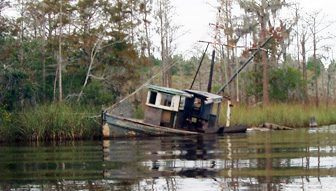 A sunken fishing boat in one of the little creeks.
Part Six: Oct. 20, 2006
Another Dawn Patrol in the Kayak
The day began with a nice dawn patrol in the kayak, down Scipio Creek to the Apalachicola River, which had about 1.5 knots of current, enough to be significant in a kayak. Crossing the river, I saw a blue heron taking flight, then I headed downstream after checking to be sure I could make it back upstream.
I went down through the bridge to check out the city marina, which was filled with an interesting assortment of boats. One sunk, some junk, and a few nice ones. The docks on one side had been ripped apart by the hurricane, leaving only pilings.
Catching Catfish, Selling Bait
A guy fishing on the public pier was initially annoyed as I didn't notice him and ran across his line, but I apologized, told him I hadn't noticed him, and avoided any real interference. On my way back out, I asked him what he had caught. "Just a catfish, so far," he said, but he did announce proudly that he had already made 5 bucks that morning by selling some bait.
Further down was an old guy, who heaved his cast net over the tall rail in a heap as I approached. When he retrieved it, it didn't close up. Not surprisingly, he had caught nothing. I was wondering if he was brand new at this, or had a long and frustrating history with that net. He seemed to have no clue about proper cast net throwing technique. He kind of pushed it away from himself as if it were a giant, heavy clump of spiders which someone had dropped in his hands.
A Towboat Tows a Barge With a Travel Lift Down the River
The day before, I had seen a barge by a public boat ramp with some kind of temporary gangway built out onto it. On the way back to the boat, I saw why it had been there. A TowBoat US boat was towing the barge, which had aboard an old, dilapidated travel lift.
Back at the marina, a new trailerable tugboat type cruiser had just arrived aboard a freight trailer, and the marina's forklift was picking up the shrink-wrapped package, trailer and all. They removed the shrink wrap, revealing a really neat little shoal draft cruiser.
We left Scipio Creek Marina around 10:30 am and headed up the Apalachicola River. What a gorgeous section of the intracoastal waterway it is, lined with cypress trees in the low lying areas and pines and oaks and the occasional riverfront home where there is higher ground.
Club Photographer for a Club I Don't Even Belong To
As we approached Lake Wilmico, we started to pass a procession of power boats, and I became the self-appointed trip photographer for a local boat club, which was doing a trip from Port St. Joe to Apalachicola. I took several photos of the passing boats, then called them on the radio to solicit email addresses, promising to email them pictures of their vessels. Everyone loved the idea, so I made some new friends.
They had every kind of boat you can imagine in that club, from a newer Albin 34 fast trawler, to a Viking sportsfisherman, to an old Albin 27 and even a pontoon boat.
There were some interesting things in the little nooks and crannies off the main river. A few people moor houseboats out there, used as weekend getaway cottages. One looked pretty much like a converted storage shed placed on a barge.
We arrived at White City at around 4 pm. There is a small public park there with a couple of boat ramps, some picnic huts, and a couple of docks.
White Tail Bucks, Bridges, and Sunken Boats
I set off in my kayak a half hour later, going back up the way we came, and hadn't gone 100 yards before I came across a whitetail buck along the shore. I had just taken my camera out of my pocket to have it ready for just such an occurrence, but darn digital cameras aren't right for that kind of thing. The deer looked at me with curiosity as I reached into my lap and activated the camera, triggering the beep. He didn't like that much, and was immediately spooked when I tried to raise it out of my lap. Oh well.
A bit further down, I saw the reason a deer might be nervous around here: the land was owned and maintained by the Wilmico Dog Hunting Club.
I found a cool little creek to go up, about 12 feet wide on average. My kayak is about 15 feet, and the overgrowing branches were hanging down at head level. I had a couple of spider encounters along the way, and found a very small, low bridge, which I managed to squeeze under. It didn't really look big enough for vehicle traffic, so I'm not sure what it was for. ATV's used by the hunters who own the place, I suppose.
I made it a couple of miles down the river, dawdling along at a slow speed, and poking into every little side creek and bayou along the way. I had told the gang that I would be back by 7, but my butt was getting sore, and I wound up making a beeline back to the boat around 6, arriving at 6:30. I did pause along the way to take a picture of a sunken fishing boat in one of the side creeks.
Can't Grill Steaks Without A Grill
I had earlier promised to grill the steaks this evening, and have them ready at 7:30. Around 7, I started to familiarize myself with the gas grill, and Jon came over to help. It was then we discovered that he didn't have the regulator valve for the thing. Doh!
Sonja had walked down the street a bit and bought some shrimp, which she was feeding to the fish when I came back from kayaking. She did catch one or two unidentified fish, and a small trout, but mostly just lost bait after bait.
Anyway, she said the bait shop was an almost extinct kind of store: the kind of small general store which eventually becomes a 7-11 or Circle K, but which was not yet absorbed by a franchise operation. It might have charcoal.
I wandered around the park and found that it contained two charcoal grills, so we took a walk down there and bought a bag of charcoal at about 7:30. Dinner was going to be late.
Gator Tail Would Be Nice, But Our Steaks Were Excellent
When we got back to the boat with the steaks just before dark, there were a few guys with a crossbow, and wearing lifejackets, preparing to launch a small boat. Their nocturnal mission: use up an alligator hunting permit before it expires. Given the size of the boat, and the size of some of the local gators, I'd say it was a good move to wear life jackets for this mission.
I grilled the steaks while Ginger prepared some aparagus dish with lots of cheese, baked potatoes, and some grilled mushrooms and onions. We had a feast ready at around 9 pm.
Jon reported the next morning that he woke during the night when the hunters returned in their boat. They did not get any gators.