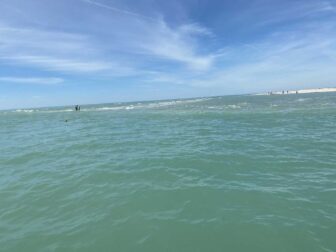 With the Watertribe Everglades Challenge starting tomorrow, I took one of my aluminum boats out to Stump Pass today to check on the current locations of sand bars. There's usually a little swash channel running right along the shore on the north side, allowing participants to save some distance by cutting the corner instead of using the main channel. That didn't look like a great idea today. There's a small bar out from the shore a bit and some waders demonstrating it's about knee deep on the outside of it. There's also an orange ball anchored in the channel just off the end of the bar.
---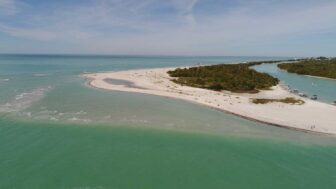 I flew my drone over the area and got this overview shot showing the shoreline and the position of the sand bar. It looked pretty darn shallow between the bar and the shore, shallow enough that I didn't want to try to go there in my little skiff. This was around noon today.
---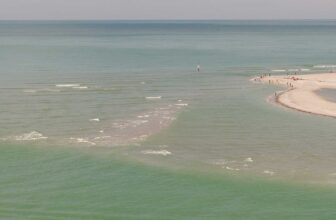 A cropped in picture taken from a bit further west than the previous one. Click to enlarge and you can barely make out the orange ball from the first picture, located just off the sand bar.
---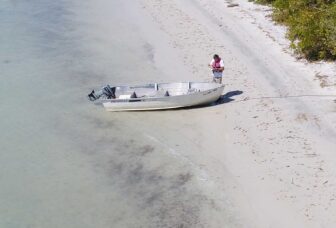 I haven't worked up the nerve to launch my drone from my little skiff but decided that it would be OK if the boat was beached. Worked just fine.