"Florida Man" is a busy guy and a few weeks ago, he launched his truck 100 feet through the air and landed it upside down on the roof of our beloved local bait and tackle shop, Fishin' Frank's. Style points for sticking such a challenging inverted landing, but unfortunately the building burned to the ground. Florida Man survived. Alcohol may have been involved.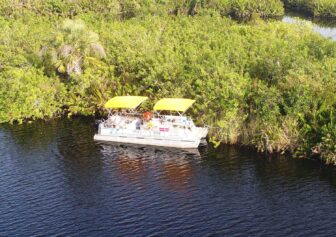 Anyway, our community does NOT wish to lose Fishin' Frank's and there has been an outpouring of help and support to encourage and enable Frank to reopen in a new location. Part of that effort was a benefit in the form of a Catfish Tournament. I'm often annoyed by catching catfish and try to avoid it, so the idea of catching them on purpose had a certain humor in it for me.
My wife had recently hooked a very large catfish in a fishin' hole just down the creek from our place and we decided to enter the tournament and go try to find that fish again.
---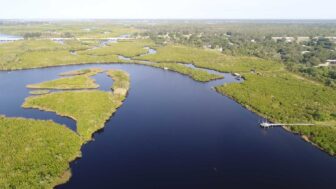 At the risk of revealing our super-secret fishin' hole, it's a bend in Shell Creek and you can see our pontoon boat, Speck Tater, in the middle of this picture at left.
My wife and grandson and I all succeeded in catching catfish and I caught one that was pretty big but for some reason good fishermen were actually taking this tournament seriously and some began chumming days before the event. Sheesh. Really? It's a CATFISH Tournament, not a real fishing contest. Anyway, I guessed that my entry would be a top ten or maybe top twenty fish at 4.5 lbs but was pretty sure at least one person would beat it.
The weigh-in started at 1:00 pm and we arrived at 1:30. Someone had already brought in a fish weighing about a pound more than mine and the weigh-in continued until 4 pm. I just saw the results on Facebook and my fish wound up being 16th place so my guess of top ten to top twenty was pretty good.
I hope everyone had as much fun with this as we did and most of all I hope to soon visit the new, improved Fishin' Frank's!