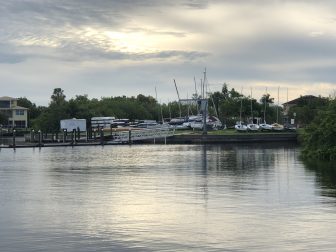 I have not had time in the past few years to volunteer at a Kids Sailing Camp but decided to make time for it this year. The Charlotte Harbor Community Sailing Center's fleet has grown in that time and the county has helped by upgrading the facility to include floating docks and a hoist that is used to get boats into the water and to get disabled sailors down into the boats. Here's a shot of the Center in the morning light.
---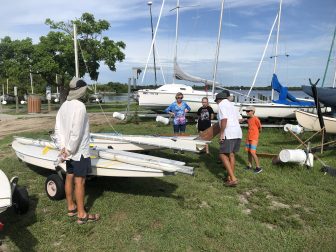 8 kids signed up for the Camp but only four showed up. Sorry we did not get more, but at least the four can get more individual attention. 3 are big enough to sail Sunfish and the youngest one was put into a Mini-Fish.
---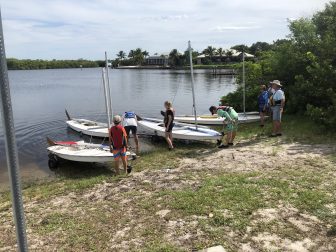 We're able to launch the boats from a portable ramp that attaches to the docks, which is handy, but took the boats over to the beach because it's also handy to be able to wade around the boats as the kids learn the most basic skills.
---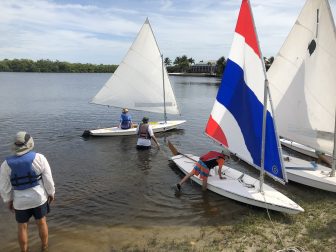 I had to go home at 10:30 so really only got to see the very beginning of the on-water part of the class. New kids are always a bit overwhelmed and confused by how many things a sailor must do at once.
One of our youngsters mentioned that she likes kayaks and SUP's and she didn't react all that well to the deluge of new information, saying that sailing seems complicated and might not be for her. I told her that sailing isn't for everyone but she should at least give it a chance.
Today I'm bringing my Adventure Island to show her and the other kids that sailing kayaks is great fun. The kids always seem to like Hobie's colorful plastic toy boats and I always tell them the same thing: you can sail my wife's Adventure Island after you beat me in an upwind/downwind race using your Sunfish. Any reasonably competent Sunfish sailor should be able to do it.