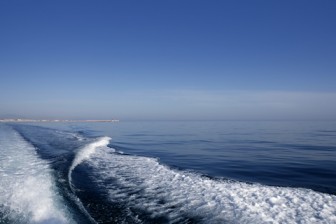 My friend Kley had a 21 Hydra Sports back in the late 70s, and it had a 175 hp Mariner outboard on it. Though the Hydra Sports hull was made with Kevlar, it was still a fairly heavy boat for its size, and it had a very deep deadrise angle that carried far aft. That made for great handling in waves, but also made it a pretty slow boat with that 175hp engine. It was said that Mariner outboards were just relabeled Mercury outboards, but that Mariner was more trouble than the Mercury engines of that time.
Eventually, they decided to replace that engine, and got a new 235 hp Johnson for the boat. Kley invited me along to break it in the day after they had installed and done a preliminary check ride on the engine. We took off early in the day from Snapper Creek Marina and headed out into Biscayne Bay. We just wanted to put some hours on the new engine, and we had no particular destination, but lots of time and fuel. We decided to run up Biscayne Bay and then follow the intracoastal waterway north until we got tired of it.
Bursts of Full Power — Then Nothing
The new Johnson 235 ran beautifully, and we ran at various speeds up through Miami Beach. After the engine had a couple of hours on it, the owner's manual directed us to continue the break-in process with occasional bursts of full power. Aye, aye, Skipper! Whatever the book says, we'll do! Wow! That much power in one outboard was still kind of a novelty back then. (This thing wasn't even oil injected, if you can imagine!)
We were having a blast flying up the ICW, which was then largely free of no-wake zones and had no speed limits in between.
We got almost up to Fort Lauderdale and decided to break for lunch, then head back home. So far, the mission had been a complete and delightful success, so we were all smiles as we got back down to Government Cut in Miami. We decided we would take a little run down the cut and measure the boat's speed along the measured mile. We were running along beside the cruise ships, and the engine died. It didn't sputter or fade or cough or anything, just died like someone turned off the key.
Though it is full of boats of all sizes, Government Cut is not exactly a boat-friendly place. Along the northern shore are rocks by the highway, dropping off steeply to a depth of 40 feet. Along the south side are cruise ship docks, which are great for a cruise ship, but not so great for a 21' Hydra Sports with one wimpy fender. It's a steel and/or concrete seawall, and depending on the tide it's pretty high. There are cleats the size of your leg, spaced correctly for ships.
We tried to restart the engine without success. It didn't respond at all to the key, so we got out the emergency starting rope. I had rope-started a 70hp Johnson, but never a 235. It took quite a tug, but we were unable to turn the big engine over. Both of us tried and tried to rope-start that thing as we drifted down into the seawall, then we took turns holding the boat and trying the engine. We were both all pulled out, and decided to call for help. Teenage boys tend to be full of themselves, but we did what most do when they get in trouble they can't handle: Call the parents. I held the boat, and Kley ran off to find a pay phone. Cruise ship docks are large places, and it took him a while. I held the boat as it tried to smash itself in various large wakes.
When Kley returned, he had talked to both of our parents, and the plan was for my dad to get our 9.9hp Johnson engine from the aluminum skiff and bring it to us in his car. There was nothing to do but wait, and while waiting, we decided, some reading material might be good. We were experienced boaters — and we were guys — so of course we had not read the whole owner's manual before departing that day, but we came across an emergency starting procedure we had not tried. There was a big, red waterproof electrical plug inside the engine cover, which apparently connected all things electrical in the engine. The suggestion was to unplug it and rope start the engine.
The Engine Responds
With the big, red plug disconnected, the new 235 coughed on the first pull and started on the second. Kley went tearing off across the docks to try to catch my dad by phone before he left with the emergency backup engine, while I held the idling boat at the seawall. Kley managed to catch my dad just as he was leaving with the little engine, then came trotting back to the boat. We were running out of daylight at this point, and decided it was a good time to do some more of that high-speed part of the break-in procedure.
When we got back to Snapper Creek Marina in the fading light of day, people were milling about, taking boats out of the water and putting things away, and we docked the boat in its slip, right in the middle of everything. Then we had to deal with that engine, which was still running. Turning the key to "off" had no effect, so Kley had to pull of the engine cover and flip the choke lever until it stalled out. This unusual shutdown procedure drew a few stares, and as he turned back to me after replacing the engine cover, Kley said, "That's what I felt like doing! Choking the darn thing to death!" The world had not yet seen Homer Simpson choke Bart, but that was the gesture Kley made, and we laughed. A bad day breaking in a new engine beats a good day doing almost anything else.
My Take-Home Lesson
It turned out the engine had burned out some ignition system component, and after it was replaced the engine was a good one. The burned-out component made the engine somehow think the key was off, no matter what we did. We could have tried rope-starting forever, and it would never work until we convinced the engine the key was turned on. That's what disconnecting the plug did. I have forgotten the exact explanation, but the lesson I took from it all was that reading the emergency procedures for a new engine before departing would be an excellent idea, and reading them during an actual "emergency" would be at least a decent idea. I also learned that sometimes you just have to disconnect all that fancy electrical stuff and go back to basic physics to get home.