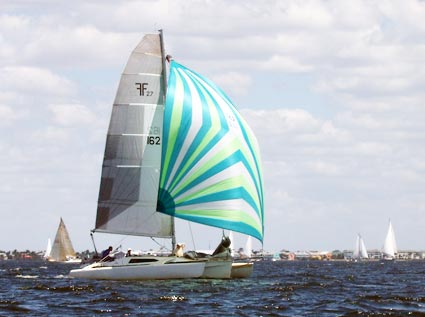 Racing Surrender in Charlotte Harbor
I first saw a Corsair F-27 trimaran at the Miami Boat Show not long after the boat was introduced to the market. I thought it was sheer genius, and unlike anything I had ever seen before. It was incredible that it could be so large and yet so light, and could move so fast under sail. I always wanted to own one, and a few years ago, the chance came along.
A friend and I bought Surrender from the original owner in July of 2004, driving from southwest Florida to South Carolina to pick up the boat. I was excited to get her home and start sailing, but did not get a chance to do so right away. Hurricane Charley came along and disrupted our lives, and we finally got around to launching the boat on five months later, on December 31, 2004, for an overnight New Year's Eve trip.
From 2005 through 2007 we enjoyed racing and daysailing in Charlotte Harbor, but in late 2007, we made the decision to sell Surrender. We were not using the boat enough to justify keeping her, and it was time to move on. The video was taken while out demonstrating Surrender to the new owner, a Swedish man named Erik, shown in the video. Surrender is in Sweden now, and I hope Erik enjoys her at least as much as I did.