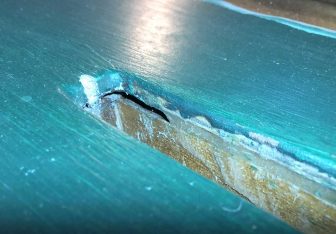 With the runners on the bottom replaced, there was still a bit more work to be done before painting the Goat Island Skiff Julie B.
The problem that concerned me most was the daggerboard trunk, where I could see some pretty large gaps in the epoxy filler in a few places. As shown in the picture at right, there was also a pretty good sized nick in the aft end of the trunk, apparently from running aground with the board down.
---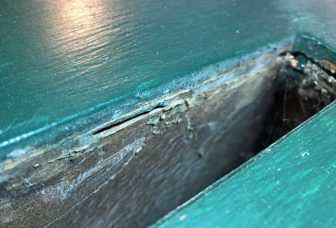 The forward end had similar gaps.
---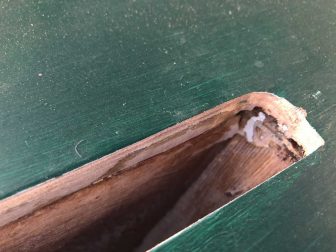 The aft end of the trunk after some sanding.
---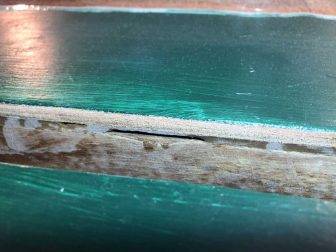 And one of the gaps along the side of the trunk after sanding.
---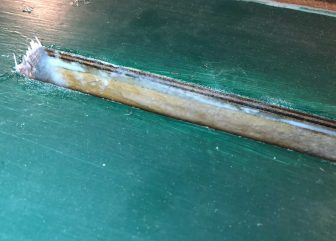 It's more than likely that I'll run aground with the board down at least once or twice. A Goat Island Skiff owner on Facebook has an ingenious answer involving padding the trunk with outdoor carpet to guard against such events and to provide a bit of friction that keeps the board at any level where it is set. I plan to incorporate that solution but I thought a bit of extra protection was in order. When I filled the gaps with thickened epoxy I put on a couple of small bits of fiberglass too.
---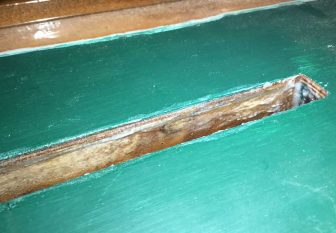 I'm unlikely to run aground while going backward so the front end of the trunk just got painted with epoxy and then some thickened epoxy pushed into the gaps.
---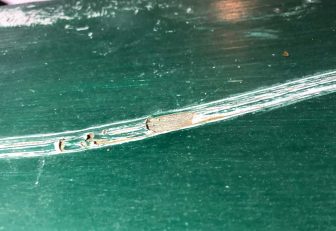 The bottom of the boat had a pretty nasty scratch that actually gouged out a bit of the plywood in a couple of places.
---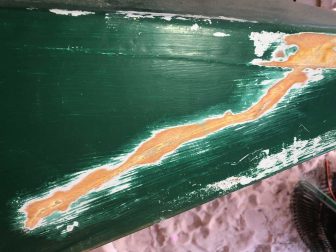 The damaged area after a bit of light grinding.
---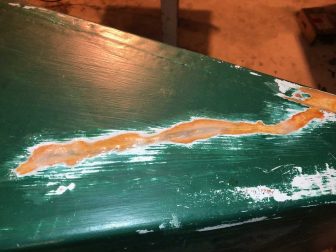 I painted the area with epoxy and filled the gaps with epoxy that was thickened with structural filler. The filler left some high spots so I filed it down a bit before sanding and painting but the repair is still very visible now that it's painted. But it's on the bottom of the boat so I figure it's just a bit of extra protection against future beaching damage.
---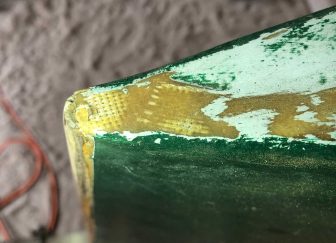 The tip of the bow had some wear and tear that had removed some of the fiberglass tape in that area.
---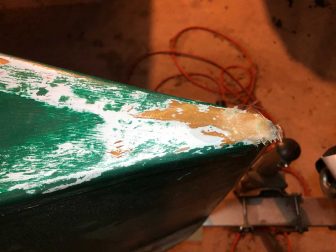 That area got sanded down, painted with epoxy, and a scrap of fiberglass tape applied.
---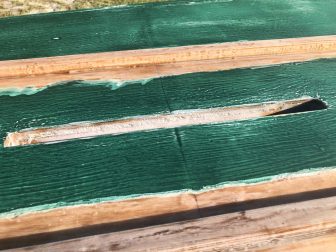 The trunk and bottom repairs and the runners all got sanded down.
---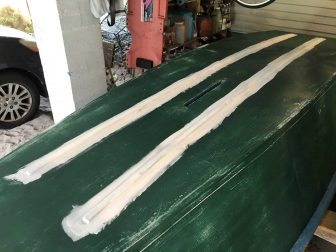 And a coat of primer applied.
---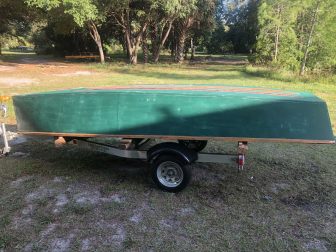 Then the boat got a bath and the whole hull sanded and wiped down.
---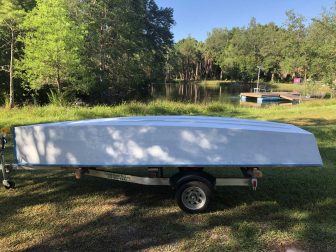 And a coat of primer applied.
---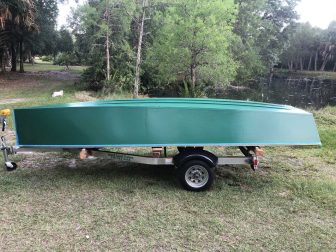 I chose a slightly brighter shade of green than the original builder. Here's the Stray Goat Julie B sporting "Billiard Green" paint.