I love to watch all the interesting boats and people who participate in the WaterTribe's Everglades Challenge each year. This year, my grand plan was to position myself on our pontoon boat somewhere inside Stump Pass and use my drone to take pictures of participants coming in the pass and also those who chose the inside route down the intracoastal waterway. It was a fun-sounding plan until I saw 25 knot gusts and temperatures in the upper 40's in the forecast, then I abandoned it. I'm a fair weather Speck Tater.
Luckily, my friend Pat, another avid speck tater, offered me a ride on his little skiff down in the area of the Challenge's second checkpoint at Chokoloskee. We launched at the Rod and Gun Club and made our way out to Indian Key Pass. Almost as soon as we entered the channel, we came across our first WaterTriber, Zippy, shown at right.
---
Not far behind him was WaterTriber Cat5.
---
We made our way on out to Indian Key Pass, the main channel in from the Gulf, and encountered a Phil Bolger-designed Dovekie named Southern Cross on their way in.
---
The next boat coming in the pass was our primary target for the day, MisterMoon and Lawless. We had Mistermoon's lovely and delightful wife aboard, who was happy to see her team doing well.
---
We spotted one more Hobie Tandem Adventure Island coming in the pass before we had to head back in, this one carrying 'Tribers Heavily Laden and Sonofasonofasailor.
---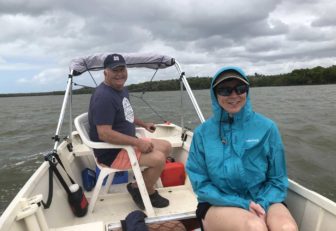 Took one more picture of Pat and MisterMoon's wife on our way back. We all had a great time!