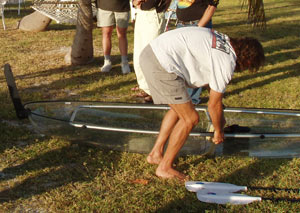 My buddy getting his clear kayak ready for me to take out.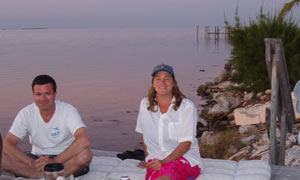 Off in the background you can see the dock I paddled to, with the little artificial reef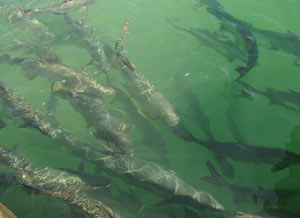 Finally, just because it's so cool, these are the tarpon at Robbie's on Islamorada. We always stop there on our way through the keys.
My friend Gene's family rents a place somewhere tropical each Thanksgiving, and the whole family gathers from far and wide for a week together, and I stop in for a couple days each Thanksgiving to see them all. In 2004 our little gathering was down in the Florida Keys in a place called Layton on Long Key, about 20 miles down the road from Islamorada. They had a nice house, great for entertaining our large and sometimes boisterous group.
Gene had brought along his clear kayak, the Molokini model from Clear Blue Hawaii. Of course, I just had to try it out.
It took him a few minutes to hook up the rudder attachment, then it was ready to go. He cautioned me that it was a bit prone to rolling when you get aboard, but stable once you're sitting inside. I wondered why he bothered to tell me that. He knows I'm an experienced kayaker.
I decided not to bring my camera, which was a bad move. The boat was a little tricky to get into, mostly because I was trying not to scratch the hull on the sharp rocks. After a kind of awkward entry, I sat down and found the boat stable.
The kayak was not very fast, and had little directional stability without the rudder down, but paddled along as I expected with the rudder down. For sheer paddling performance, I prefer a really fast kayak, but I was unprepared for how much fun the "glass bottom boat" effect can be in a kayak. I had always thought it would be kind of a fun idea, but not really worth doing. Too expensive, too fragile, too easy to scratch, too heavy, and all kinds of other reasons crossed my mind why a transparent kayak just should not and would not be built. Wrong again!
Great View of an Artifical Reef
I paddled up the shore to the next dock, where the owner had been accumulating tires, concrete blocks, and other such artifacts underneath his dock, creating a nice little personal artificial reef. It was a scaled-down model of the real thing, complete with colorful angelfish, triggerfish, and other tropical fish, joined by some snappers, grunts, and even some spiny lobster and a small grouper.
I was able to sneak in on top of them without causing too much panic, because I didn't make much noise, nor cast much of a shadow. I grabbed the dock over my head, and just held still for a few minutes, allowing the reef fish to more or less forget I was there and go back about their business. The view was incredible through the clear polycarbonate hull.
I moved on out over some turtle grass flats and passed over some starfish and anemones and a school of glass minnows. It was like a marine movie going on underneath me as I paddled along. I went over to a mangrove lined shoreline and paddled along close to the trees. Snook and redfish often hang out under mangrove branches and roots, and sure enough, a small snook came out and swam right under the boat.
I had to head back to the party, but I was glad I took the time to try out the clear kayak. Clear Blue Hawaii also make a foldable version, which is shaped much like my Klepper foldable. I would really like to try that one out. The view of the Clear Blue Hawaii transparent kayak combined with good paddling performance and seaworthiness would be a real treat over in the Bahamas.