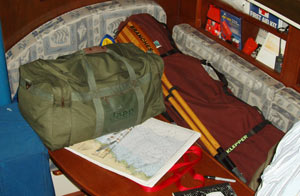 My Klepper foldable kayak (the dark red bag on the settee) proved to be the most difficult to stow. It seemed to be in the way no matter where I put it, even on this roomy Irwin 38. Yes, that's a dog leash on the table — Nicki would accompany us.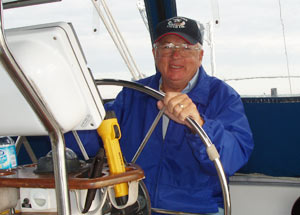 Jon is all smiles as we make our way out the channel toward the Gulf of Mexico.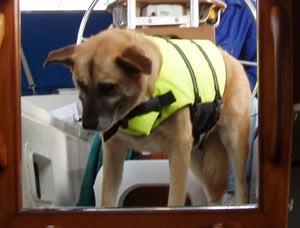 Once we got out into the wind and chop, Nicki wasn't so sure about her role as the navigator dog.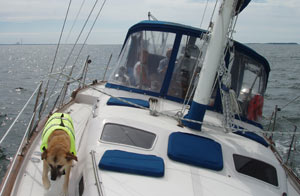 The Irwin moves along nicely, heeling in the wind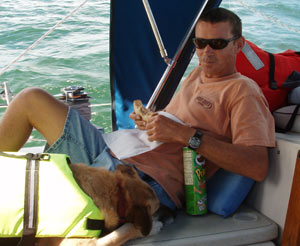 Nicki finally settled down as I enjoyed my tuna sandwich for lunch.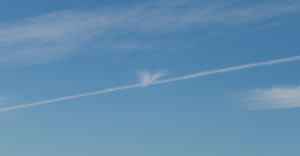 On the way in toward shore to anchor, I saw a very strange contrail with "splash wings," left by a jet passing over the Gulf. I didn't see the plane that made it, but I have never seen anything like this, and still don't really know what it was.
Part One: Oct. 13-14, 2006
Departure
On the evening of OCt. 13, 2006, we arrived in New Port Richey, FL, home port of our friends Jon and Ginger and their 38' Irwin center cockpit sloop, Charlie K. The cabin quickly became cluttered with our luggage and my Klepper foldable kayak, along with bags and bags of bedding, foul weather gear, a Sirius satellite radio, not to mention the fact that my wife, Sonja, and I both are incapable of leaving home without our laptop computers, cameras, and associated paraphernalia. We were not exactly traveling light.
After our gear was stowed away, we enjoyed a chicken dinner. The weather forecast brought smiles all around. Winds were to be from the NE at 15 knots. Not perfect, but we would at least have enough wind to sail. We slept well on the boat at the dock that night, and rose in the morning eager to depart.
The wind turned out to be closer to North at 18 knots. Not good for us, but we left anyway.
Nicki Tucked Her Tail Between Her Legs
Nicki the Navigator, Jon and Ginger's boat dog, seemed a bit concerned, wandering from person to person with tail between legs, looking for comfort and attention. Jon and I were not eager to beat into this much wind, and after powering upwind for an hour, we had not gone far.
We ate a breakfast of avocado on toast, and decided we didn't really need to get anywhere this badly. If we had tails, they would be tucked between our legs just like Nicki's.
We Anchor to Wait Out the Weather
We turned around and went to an anchorage inside Anclote Key to wait for better weather. The forecast called for the wind to come around through east to southeast, so we figured it was a matter of time before we could sail up the Florida west coast on a nice reach, then cut the corner over to the Panhandle.
After a few hours at anchor, the wind became more favorable, and we were able to sail close hauled up the coast. With about 12 knots of wind, gusting in the upper teens, we were averaging over 6 knots on the Chartplotter GPS. The Irwin is a bit tender for her size, and Nicki the NavDog and Sonja the wife seemed to be of the opinion that we were heeling too much. As a multihull enthusiast, I couldn't pass up the opportunity to point out that boats with enough hulls don't heel so much, but I thought Charlie K was performing quite well, for a leaner.
Sonja became accustomed to the heel angle and the feel of the big boat as she took her turn at the helm, and Nicki finally found a good spot to relax as I had a tuna sandwich for lunch.
More Unfavorable Wind
The wind was not kind to us later in the day. It did not swing east as forecast, and with wind on the nose and increasing waves, the ride wasn't comfortable. After numerous complaints from Nicki and the women about our angle of heel and the wave action, we elected to deviate back toward shore, thinking of anchoring up near Crystal River.
To control our heel angle, we let the jib out waaaay too far, and it was driving me nuts, though no one else seemed to care that most of it was luffing. I finally couldn't take it any longer, and suggested we reef the main way down and roll in the jib some. Single line reefing led to the cockpit turns out to be much more trouble than just doing it the old-fashioned way, and I didn't spend much time at all in the cockpit for the procedure. There was just too much friction in the system, and I had to go up to the mast to pull slack along and force the system to work.
Reducing the Sail Area, Steering Higher, Going Faster
Once the sail area was reduced to a pathetically small amount, the heel angle seemed to meet with more general approval, and we were able to steer higher and go faster, all without driving me nuts. Progress was still pretty slow, and as the late afternoon sun started to sink in the west, we discussed whether to continue on the overnight sail plan, or anchor up in hopes of better winds tomorrow.
Nicki the Navigator tipped the balance of our discussion — there was no way she could take care of business up on the deck unless we found some calmer water. We decided to anchor as near as possible to Crystal River.
By this time, we had furled the jib, and were proceeding under double-reefed main and iron genny. Our speed was under 4 knots, and after a while, Jon looked over the stern and saw why: we were towing a crab trap. D'OH.
I got down in the dinghy with the boathook, but was unable to free it from the rudder post. After a few futile pokes, I decided it was time to swim. Not wanting to deal with a wet bathing suit, I stripped my clothes off and asked for a towel, then went in the water. Unfortunately, I had to cut the trap away. I hate leaving a ghost trap and messing with someone's livelihood, but I wasn't equipped under the circumstances to deal with the situation in a better way.
Once it was cut, I still couldn't get it free from the rudder post without a bit more carving. I finally managed to free it, and got back in the boat. BRRR. The water was a little cold, but the air was really cold when I got out. For the benefit of yankees, really cold means "well below 80 degrees, maybe 70, and windy."
By the time I was done, we had about a half hour of daylight left, and were in the neighborhood of many more traps. Not wanting to pick up another one in the dark, we decided to head shoreward until we ran out of light, then anchor. We anchored in about 12 feet of water just north of St. Marten's Reef. Dinner of shrimp pasta and veggies followed by a nice rum drink knocked me right out.